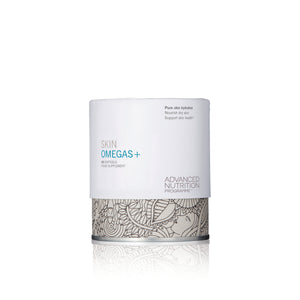 Advanced Nutrition Programme
Skin Omegas+ 60
Regular price
£34.00
£0.00
Unit price
per
Skin Omegas+ help to nourish dry skin. Formulated with vitamin A, a key ingredient for skin health~, as well as omegas 3 and 6 fatty acids
What makes Skin Omegas+ special?
- Skin Omegas+ contains EPA (an important omega 3 fatty acid) along with GLA (an important omega 6 fatty acid) made from Evening Primrose Oil
- Skin Omegas+ is made with premium, scientifically researched omega 3 from EPAX, a world leading supplier known for its purity, quality and innovation. They hold a Friend of the Sea certificate, so you can be sure the omega 3 is sourced using methods that conserve marine habitats and resources.
EPAX products are guaranteed to meet or exceed all known global purity standards.
~Vitamin A contributes to the maintenance of normal skin.
Benefits

- Like an internal moisturiser for the skin
- Nourishes dry skin
- Gives skin a luminous glow
- Supports skin health~
~Vitamin A contributes to the maintenance of normal skin
Directions
Take 2 soft gels daily with a meal or as your health professional advises. Do not exceed the recommended daily intake.
Ingredients
Omega 3 and 6
Vitamin A
Fish oil, capsule shell (fish gelatin and glycerol), evening primrose oil, antioxidant: d-alpha tocopherol in sunflower oil, vitamin A palmitate, antioxidant: dl-alpha tocopherol.
Free From 
Yeast
Artificial flavourings
Gluten-free

Warnings
If you are under medical supervision, please consult a doctor before use. Caution is advised with anticoagulant medication such as heparin, warfarin, or coumadin. Keep out of reach of children. This product should not be used as a substitute for a varied and balanced diet and healthy lifestyle.
ALLERGEN: contains fish


How to Store
Store below 25°C Store in a cool, dry, steam-free enviroment as damp conditions can affect the product quality.

Product Information
Two softgels provide:
 
 
%NRV
Vitamin A 400iu
 
120µg RE 
15
Fish oil
 
1140mg
 
providing omega 3 fatty acids
 
 
 
EPA (eicosapentaenoic acid
356mg
 
 
DHA (docosahexaenoic acid) 
238mg
 
 
Evening Primrose Oil
 
594mg
 
providing omega 6 fatty acids
 
 
 
GLA (gamma linolenic acid) 50mg
50mg
 
 

NRV = Nutrient Reference Value
RE = Retinol Equivalent
---
Share this Product
---